RailsConf Conference Sponsorship and Booth Presence
This year Fountain was a sponsor of the RailsConf 2022 Conference conducted in Portland, OR. 🎟️
Some goals for Fountain were to increase the presence and awareness of engineering team opportunities in the Rails community, and increase brand recognition for Fountain the company.
The overall objectives were met! The majority of the conference attendees were unfamiliar with Fountain before and through many conversations, we had the opportunity to tell them about the company, products, and engineering team opportunities.
Read on to learn more!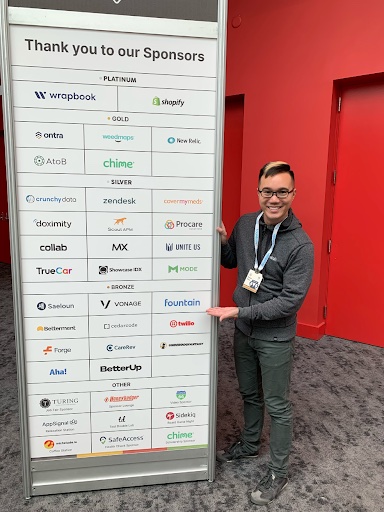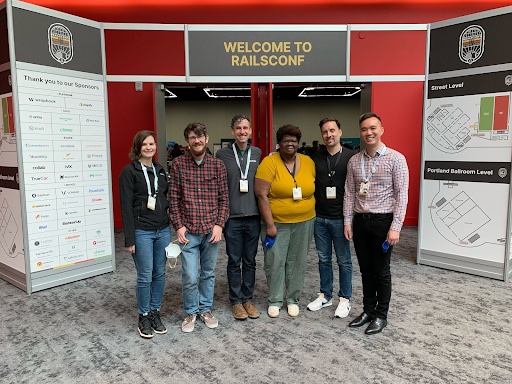 The conference was well-organized and well-attended with over 1,100 attendees. 6 people from the Fountain Engineering Team attended.
Our Fountain booth served as a "home base" to our Fountaineers, as they were able to drop by and take a break when needed. Everyone also had the opportunity to practice their "Fountain pitch" - how do you come up with a clear and concise way to describe Fountain? Andy Atkinson gave a thoughtful and informative presentation and was a celebrity at the conference. What a treat it was to see him in the "spotlight" and to be well-respected by so many attendees. Kristin and I attended the Fountain booth. We spoke with over 200 attendees about Fountain, giving away some 450+ pieces of Fountain swag. We even met the Evil Martians! We spoke with 4 potential candidates showing interest in working at Fountain; one candidate made it through our interview process and is in the offer stage. Finally, it was so great and fun to see and meet so many Fountaineers in person. This conference also served as a strong team-bonding event.
Reflections and Future Considerations
The 10 x 10 booth size (provided at the Bronze Sponsor Level) was perfect for Fountain; there's no need to go bigger.
Having a bigger standing Fountain banner and/or backdrop would have made Fountain more visible at the Exhibit Hall.
In terms of swag, we learned the socks were the most popular swag item; everyone seemed to want them, and we ran out within the first 3 hours.
For future recruiting events, it would be helpful to prepare a postcard showing open roles, benefits, and give a company description with contact info to hand out to attendees that visit the booth.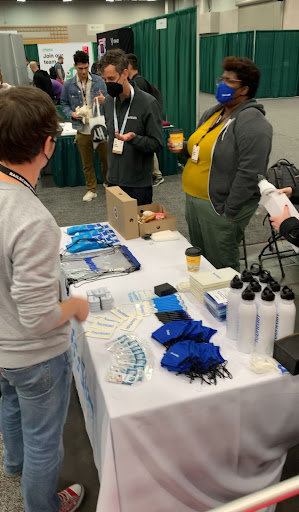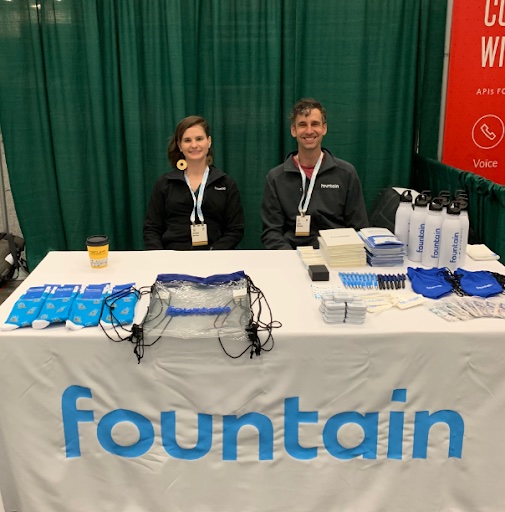 Thank yous
Special thanks to Alicia and Marian for providing Fountain swag for us to give away. We gave away 90% of the swag!
Special thanks to Kristin for helping us set up and staff the Fountain booth!
Special thanks to Andy, Sabrina, Josh, Andrew, Vikas, and Richard for hanging out at the booth to speak with conference attendees about Fountain!
Special thanks to Andrew Gauger for dropping the swag box at Fedex, saving us at least $750!
Special thanks to RJ for thoughtfully picking delicious/fun dinner restaurants for the team!